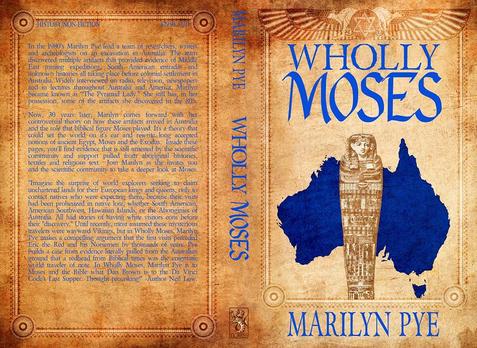 Marilyn Pye has always had an interest in the unexplained, in particular the greatest enigma of all;" Who is man and who are his Gods?"Marilyn always believed that if god was real, this truth could be discovered intellectually from mankind's vast storehouse accumulated knowledge, be it historic,archaeological,scientific,philosophical or religious.

The seeking of knowledge played a private but important part in her life during the years of Marilyn's life as a wife and mother. After her divorce Marilyn became a business woman with interests in restaurants and Interior Decorating. Silently Marilyn still asked herself" What's it all about? Is there a God or not?"

After a series of enigmatic events in 1982 Marilyn sold her assets,walked away from her former life of luxury and embarked on a journey of discovery. A journey that would span the globe and take Marilyn to such diverse places as the Hopi lands of Arizona and the megalithic monuments of England including Stonehenge and Avebury.In 1982 Marilyn met a virtual stranger in Cairns,one of the strangest things he said during their brief association was that there was a pyramid 90 miles north of Cairns.With no interest in
pyramids,Marilyn found the idea intriguing.Was it possible,a pyramid in Australia? But why…built by whom and when….for what purpose….was it important? These questions were Marilyn's traveling companions as she circled the globe and scrambled through the enigmatic megaliths of England.

A famous historian once said "History is only correct insofar as we have asked the right questions." The absurd,even impertinent questions asked by Marilyn Pye about the possibility of a pyramid in Australia has led to a theory so shocking that history may have to be re-written. This theory is presented in the pages of Wholly Moses,but above all it is about Moses the man,his life and times,his loves and losses,his despair and his majesty.

Wholly Moses is a secular even pragmatic approach to the life of Moses the author merely hinting at the deeper,spiritual secrets motivating Moses on his journeys through the Wilderness.

Wholly Moses is the first book in a trilogy of three. Book Two in the series will take
the reader deeper into the mysteries of the Bible revealing many of the clues hidden within its pages that refer to the Cooktown pyramid, in reality an ancient tomb within a natural cone shaped hill. Does the tomb really exist/ only time and proper archaeological excavation will supply the answer.
---